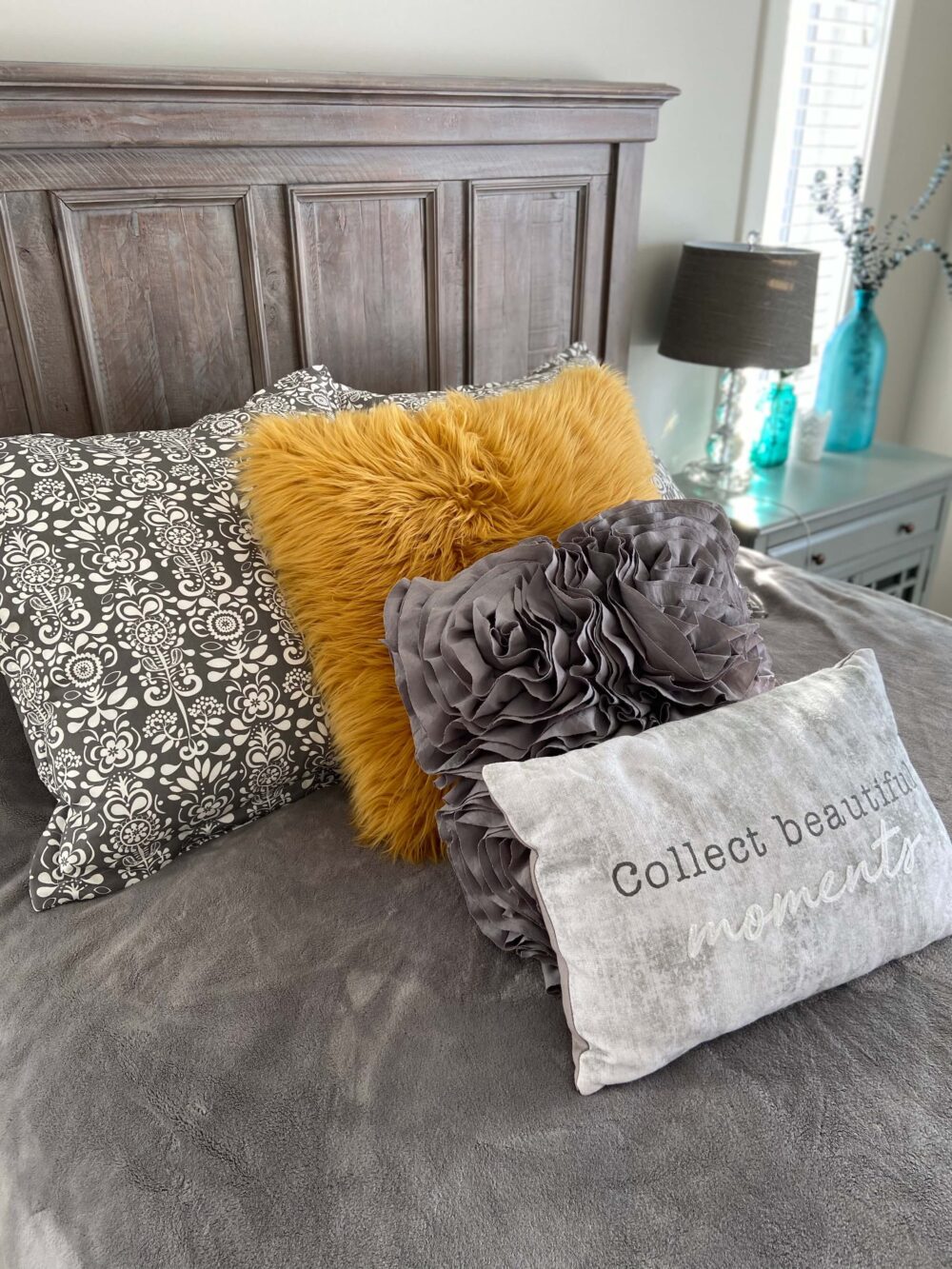 From paints to lighting, and heating to insulation, Autumn is a great time to get snug and cosy, prepared for Winter but also to prevent potential costs being incurred from the looming drop in temperature. Our team of experts share their tips on preparing for the nights drawing in.
Cosy colours
Darker evenings mean spending more time indoors – the Autumnal tones of nature make this a great time to play with colour on walls or with fabrics, furnishings and accessories. Consider dark greys to keep you grounded whilst warm colours such as reds, oranges, browns and yellows will create a cosy feeling while it's cold outside and can refresh a room or just a feature wall.
Tuck away Summer accessories
Lush thick blankets and heavy throw pillows are a necessary indulgence to fight the winter cold and can then be used in the garden during summer evenings. Keep them out of sight by storing them away in a small set of drawers or feature them in oversize woven baskets. Pack them away with cedar wood blocks to keep moths from dining on your throws!
Bring the outside in
You may be spending less time in your garden than you did in the Summer, so incorporate little bits of nature into your home design by decorating with flowers, branches or fruits. Even the tiniest touch of the outdoors will make a significant difference to the theme of a room.
Switch to Autumnal artwork
Switch the themes, messages and tones on your gallery wall to Autumn/ Winter for a really simple room update. Think dark warm colours, wintery landscapes and anything inspired by nature. Frame some lovely wintery mottos and mantras.
Set the mood
Ambient lighting can help to create soft and warm spaces in your home. Candles add to this and battery-operated candles are a much safer option. Manufacturers such as Philips produce incredible Hue bulbs that can replace existing fittings – they are capable of producing over 1 million colours and can dramatically enhance a room's ambience.
Heating health check
Check your radiators for cold spots, you'll need to bleed them of trapped air to ensure they are working efficiently. Once you have allowed time for your central heating to cool down, this takes just minutes to do and will make a significant difference to reducing heating costs whilst also ensuring that every room is warm. Designer radiators are growing in popularity and are sure to be popular if you put your house on the market.
Water matters
During winter months we recommend you wrap your pipes in cladding (especially those adjacent to an outside wall), keep your home at 65 degrees or more and locate your home's water shutoff so you can quickly isolate your home in the event of an emergency.
Clear those gutters and drains
Clearing the gutters and drains is probably the last thing on your to-do list, but it's an essential task.
Leaves and mud can block the drains and once it becomes too much, it can cause leaks into the roof and walls. Making sure the gutters are clear from any possible build-up will minimise the risk of water damage to external walls.
Get your boiler checked
Having no central heating over the winter period is the last thing you want to be dealing with.
So be sure to get your boiler serviced before the cold weather really kicks in. Always use a Gas Safe registered engineer when you book in your service – visit Gas Safe to find a certified engineer in your area. You may also want to think about taking out boiler cover if you don't already have it. This will ensure that a qualified engineer will be on hand to sort out any problems with your boiler or central heating as quickly as possible.
Sweep the chimney
If you have a chimney, it's important to maintain it. Many of us underestimate the severity of chimney fires and therefore forget about cleaning out the chimney. But chimney fires can occur fairly frequently during the winter months, so think about employing a professional to clean and take care of your chimney.
Lofty grants
Updating your loft insulation is a great way to cut energy bills and keep your home warm. If you are planning to improve your home efficiency and reduce your annual energy costs, then loft insulation is one of the best and easiest solutions to implement. Our team of experts recommend you check the latest information on Government funding for getting your loft insulated. For further info visit https://www.gov.uk/government/publications/green-homes-grant-local-authority-delivery-scheme-entering-a-bid
And don't forget, if you need some help with your Autumn spruce up, we have a Chosen team of experts who can help to get everything gleaming and ready for sale. One of our experts would be happy to discuss this with you here