How many of us ever considered working from home when we bought our homes?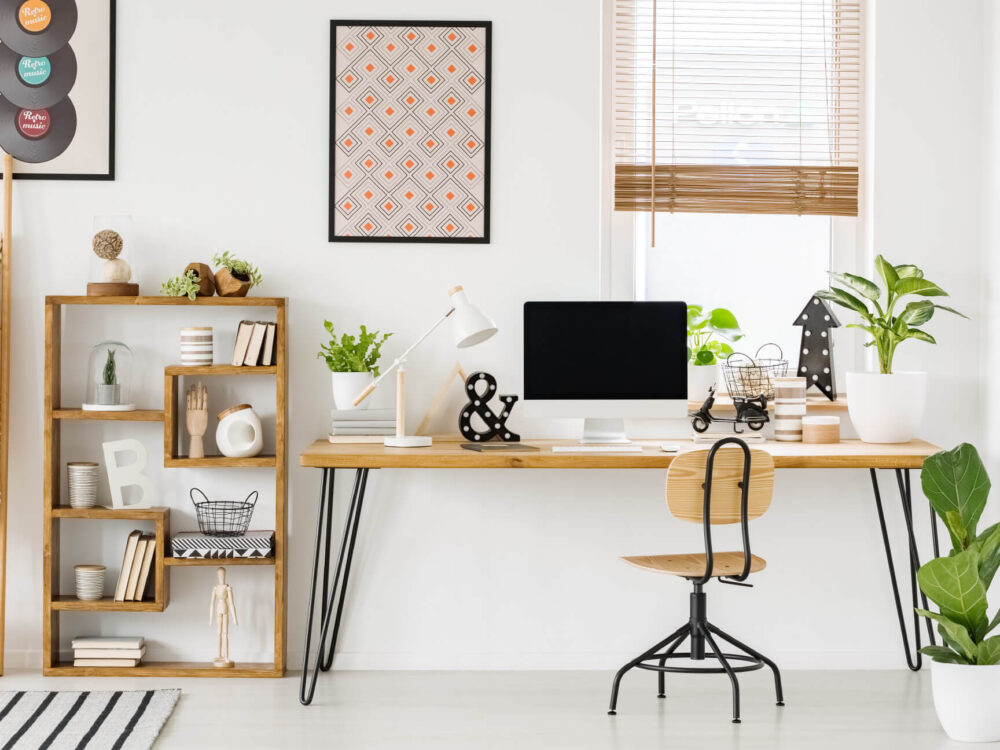 Coronavirus has meant that many of us are now working from homes that weren't chosen with remote working in mind.  Likewise, many house buyers are now looking for homes with suitable work spaces.  Unsurprisingly, working from home is now a hot topic with Chosen Home's clients. We're here to help you create a home office in any home.
We believe that all homes can be adapted to suit working from home, regardless of size or style.  This is your opportunity to create a space that suits you, no need to be cramped up next to the laundry basket or shoved in a dark corner.
So, whether you are trying to squeeze in a small desk or a shared workspace, our top tips will help you to create a home office to boost your creativity and keep you sane!
Our team of experts can help you to create the right set up in your existing home, or know what to look out for when searching for your next home.
Choose carefully
Firstly, you need to identify the best place for your office. If you have a rarely used dining room, or a spare room that doubles up as storage space, then they could both be good options. Consider natural light, phone and Wi-Fi signal.
Even an alcove or cupboard can become a home office.  By taking the cupboard doors off and selecting a narrow, low profile desk you then have room to add shelving above for books and a printer.  Brighten up with a light paint, wallpaper or a big mirror. You could even add a sliding door so that once you've finished work for the day, it's all out of sight and out of mind.
Many people are lucky enough to have a suitable space inside the house to convert into an office, but if you don't then that's not a problem: you can build an office in your back garden instead. Sheds are spacious enough to house an office, without taking up too much garden space.
Carve out your space
Moving your furniture around can make a big difference. Even in a small living room you can create the space needed for a home office. Try placing the sofa against the longest wall and then put the desk directly in front of a window. Open up space in the centre of the room to feel open and airy instead of cramped and crowded.
You can also carve out space for your home office using a curtain. The fabric "wall" can span the width of the space and separate the work area from the rest of the room.
You can even transform an old cupboard into a home office that can be opened up whenever you need it. Include a shelf for storage and a pull-out board for a keyboard.  Attach a board to the inside of the cupboard doors as a place to keep track of to do lists.
Be your own IT department
It's worth spending time at the outset to ensure your technology is up to date and working properly.
When creating your home office, you'll also need to ensure that there are enough plug sockets. You'll need space to charge your laptop and phone, as well as having space to potentially plug in a printer and a lamp. It may be worth buying a plug extension so you have enough sockets.
Are you sitting comfortably?
Another highly important piece of equipment for your home office is a chair. When you're sitting down for long periods of time, you want to make sure that your chair supports your back and neck, and helps with your posture.
Placing your computer by the window means that you can gaze out whenever you want to give your eyes a break from the screen.
If a window isn't an option then don't worry, you can cheat! There are lots of lamps out there that mimic daylight, so you can enjoy the benefits of natural light even though you're faking it.
Lofty ideas
If you have squirrelled away some savings for a rainy day, you might want to go the whole hog and convert your loft space into your home office.  Away from noise and distractions of the rest of the house, the loft area can be a wonderfully private space for your home office.
We recommend creating natural light if at all possible and keep the windows low. After all, the loft is at the top of the house, so the views could be very motivating. Roof lights are very on trend but do consider how a great view would help with your head space.
One of our experts would be happy to put you in touch with reputable building firms to help you transition from home owner to remote worker.